IMPROVING HEALTHCARE QUALITY IN NIGERIA
Collaboration with the West African Health on the 6th of September 2012
Please click here to read the report from the collaborative conference with West African Health at the 8th International Medical Exhibition & Conference.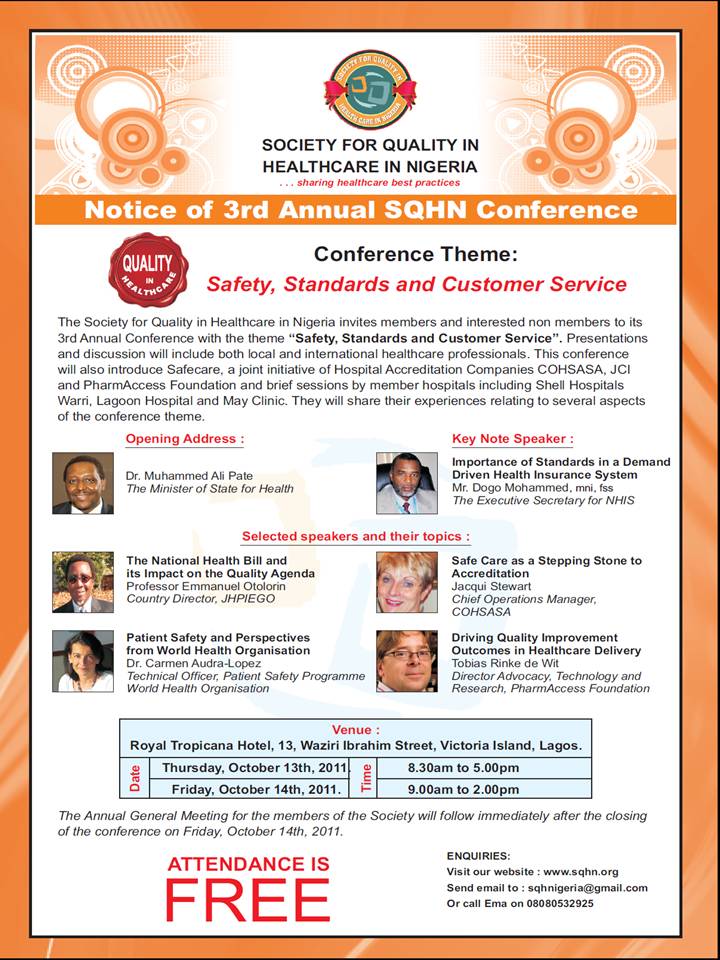 For the very first time since the introduction of the Annual Conference, the Society for Quality in Healthcare in Nigeria (SQHN) invited her members and interested non members of the public to a 2-day Conference with a theme of "safety, Standards and Customer Service". The Conference was held on the 13th and 14th of October 2011 at the Royal Tropicana Hotel.
Presentations were made by local and international healthcare professionals, and there were presentations made by brief member hospitals (Shell Hospital Warri, Lagoon Hospital and May Clinics Ltd) to share their experience on issues relating to several aspects of the Conference Theme.
The Conference was opened by an address from a representative of the Minister for State for Health, Dr. Mohammed Ali Pate, and was well attended by over 400 people (old and new members as well as members of the public) the first day and over 300 attendees on the 2nd day.
Presentations are available for download here. Please click on the names of the presenters for their profiles and the topics for the presentations.
Click here to view the Programme of Activities and the Conference Report.